Waltham Rambles Registered Dog Walkers and Licenced Home Boarders
Waltham, near Grimsby
Dog Walking Services and Rates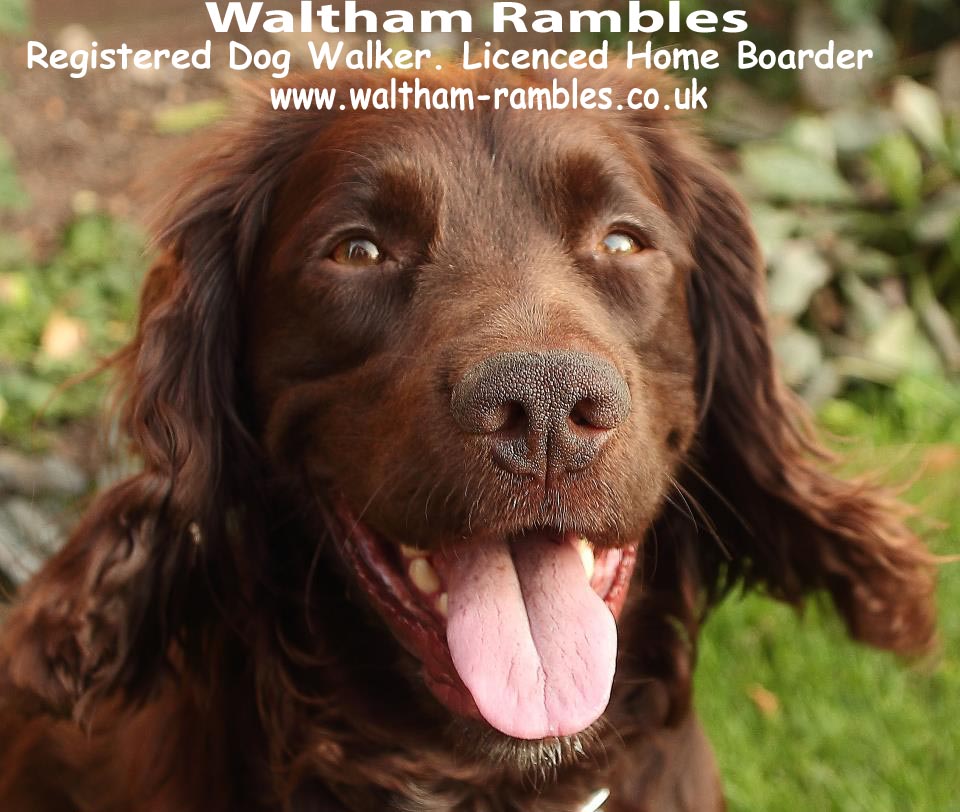 The Dog walking service we offer can be tailored
to your dogs needs as much as possible.
We can discuss this face to face at at the intial
free consultation and meet and greet with yourself
and your dog. We also offer free meet and greet
walks to ensure we are a good match for your dog.
It is as important to us as it is to you that your dog
enjoys his walks to the full and is safe and happy.
Please find us on Facebook and view the photographs

of our Doggy Clients enjoying their walks.

Pictures speak louder than words.

Please also read the numerous reviews where our clients speak for us.

"Lynn has been absolutely brilliant with our hyperactive puppy Buster.
She has reinforced all his training so that he has come on in leaps and bounds.
My partner works shifts and I work full time, so Lynn's flexible approach has been invaluable to us.
She is great with Buster and I love having someone I trust caring for him when we aren't around.
I would definitely recommend Waltham Rambles to anyone!!"
Vicky
"Lynn is fantastic with Ollie, she cares for him like he is her own but it also consistent with our training methods.
Lynn's flexibility makes our lives so much easier and reduces the guilt of going to work and leaving Ollie alone.
I would recommend Waltham Rambles to anyone"
Moya

We believe it is important that we give each dog quality time on our walks. Our walks are variable

and in secure local Green areas, Parks and Woods. We will be consistent with training and

commands that you have in place.
We collect your dog from your home and walk them with as much care and attention as you would

yourself. They are then returned home, well excercised and stimulated and settled into their

normal routine. We can't guarantee that we will bring them back clean, but we will give them a

rub down and clean them up as best we can.

Under the terms of our insurance your dog will be walked on leash unless we have written

permission to walk off leash. Before we do this we must be confident of full recall.

Your dog will be walked for the full period of time booked. Any travel time is excluded.

We can also offer a pop in service for Puppies or for older dogs who may not require a walk.
We can feed them and give medication (with written instructions), let them out in the
garden to relieve themselves and give them a fuss and some attention.
We will also clean up after them if necessary.
Important for the safety of the dogs in our care and to ensure harmony on our group walks
we unfortunately:

Do not walk Bitches in season, but we will arrange a home visit.
Reserve the right not to walk uncastrated males over one year old.
Do not walk an aggressive dog or one which begins to display aggressive/dominant behaviour.
We apologise for any inconvenience this may cause, but the safety of the dogs in our care is our priority.

Our Dog Walking rates are as follows.
Please note these rates apply to our regular hours which are Monday to Friday 9am to 5pm.
A loyalty discount is given for regular walks of five days.

If a client has a specific request or it is an emergency we will obviously gladly help if we can.
Please note however that enhanced rates will apply out of normal hours or for weekends and Bank Holidays.
Please contact us for a quotation.

Individual Walk Rates
| | |
| --- | --- |
| 60 minute individual walk | £12 |
| 30 minute individual walk | £9 |
Group Walk Rates
All our groups walks are for up to an hour.
| | |
| --- | --- |
| | |
| | |
| 60 Minute group walk | £9 |
| Additional Dog from same family | £5 |
30 Minute Pop in Service

To feed, let out, fuss and play etc. £9
Out of hours, weekends and Bank Holidays
Weekends and out of hours

| | |
| --- | --- |
| 45 Minute walk | £12 |
| Additional Dog from the same family | £5 |
| 30 Minute Pop in service | £10 |
If you have any queries, please do not hesitate to
contact us
.