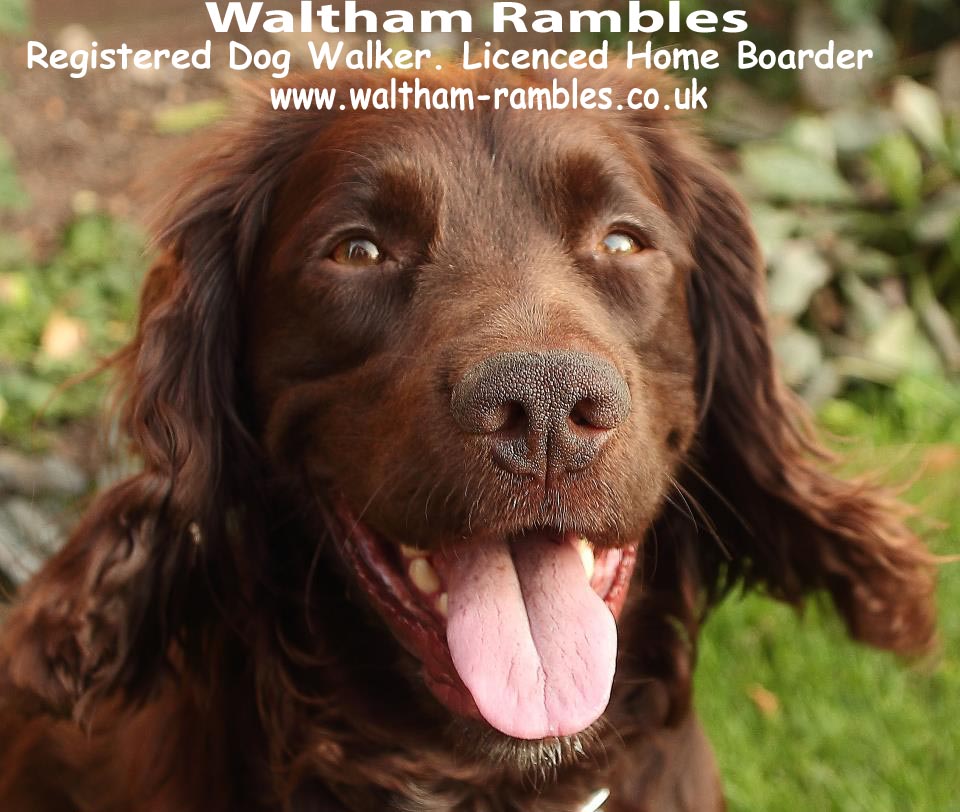 At Waltham Rambles, with being Dog Owners ourselves,
we understand that when you need to leave your best friend,
for whatever reason, that you wish to ensure they are being well
provided for, loved, cared for, happy and safe.
We have been inspected and licenced by the Local Authority,
(NELC) to provide a Home Boarding Service for Dogs. We are
inspected annually to ensure we comply with the regulations.
We are proud to say that we have passed all of our inspections first time!
We have several clients who leave their Dogs with us on a regular basis
during the year. We also have many repeat bookings.

Our aim is to provide a Home from Home experience for your Dog, so your Dog has an enjoyable break too.
"We can't thank Lynn enough for looking after our 11 year old Schnauzer Ellie.
We've always struggled getting away as we didn't like using kennels, this service Lynn provides
sounded just what we were looking for.
The whole experience has been one we would recommend to anyone who's looking to go away
and feels reluctant in placing your precious Dog in kennels.
Lynn kept us up to date whilst we were away sending photos of a happy contented Ellie.
This really put our minds at ease and enabled us to relax and enjoy our holiday.
We will certainly be using Lynn again, and hope for any of you with any doubts, please don't,
your Dog really does get the 5 star treatment.
Thanks again Lynn, we will be seeing you soon"
Kirsten

We will keep to the familiar routines as much as we can.
Because we are also Registered Dog Walkers, your Dog is guaranteed plenty of stimulating exercise and socialisation.
We encourage you to bring your Dogs own Bed/Bedding and Toys for comfort and familiarity.
We would also advise that you provide your normal food, as a change of diet can cause stomach upsets.

No Dog wants that on their "holidays"
My friends tease us by saying that we run a "Doggy Hotel", but to be honest they are right!
Before we take a Dog for boarding an initial consultation would be arranged.
As there are fields right on my doorstep this involves a meet and greet walk with my
Two Dogs to allow them to meet away from the house intially.
If this goes well, we can then come back to the house to socialise the Dogs further.
This also allows for a viewing of our facilities.
Our Licence, insurance and all relevant certificates are available for inspection and on full display.

It is very important that we have plenty of time to socialise
the Dogs with each other and also arrange a trial visit and sleepover.
For these reasons and because socialisation of the Dogs is vital, we would be reluctant to take a Dog for
boarding at very short notice. We will review late bookings carefully and with the Dogs best care in mind.*
Please therefore if you wish to use our Home Boarding service, book in plenty of time to avoid disappointment.
We would also require the following before boarding could commence.
All of this would be discussed in more detail during the consultation:-
Sight or photocopies of your Dogs vaccination certificates
Dates of last worming and Flea Treatment ( at least 14 days before the boarding commences)
We advise that your Dog is Kennel Cough vaccinated, again at least 14 days before boarding commences
Details of any illness or medication required. We can admister medication with written permission.

Completion of booking forms etc with a minimum deposit of £50 (balance due in full before the boarding begins)
We would advise that for the safety of the Dogs in our care we reserve the right not to board
Entire males
Bitches in season or who are likely to come into season during boarding.
We will carefully review short notice bookings (see above)*
Our booking process is very thorough , and will bring to light any potential issues.
For your peace of mind and to ensure your Dog will be happy with us this involves.

Meets and greet
Trial stays and sleepovers
Completion of a detailed booking pack